News
The Best Dust Masks for Woodworking Projects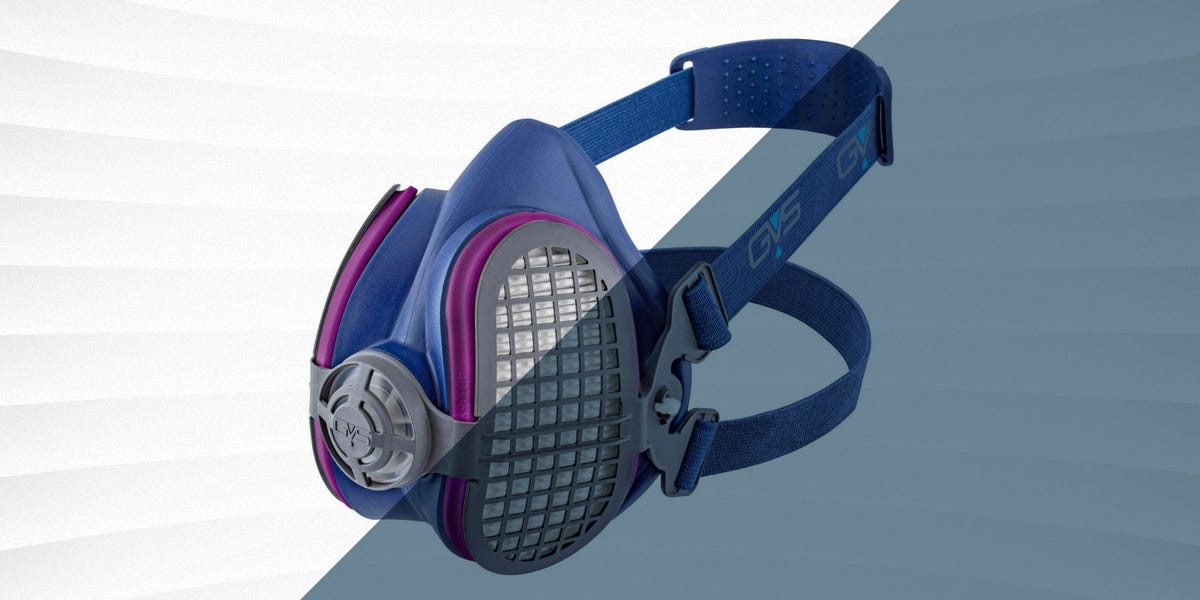 Whether you're ripping plywood sheets through a table saw or power-sanding a wood piece to smooth it out, you're going to be creating some sawdust.
Unfortunately, this dust isn't just inconvenient to clean up around the garage—it can also be harmful to your lungs when inhaled. Plus, depending on the type of lumber you're working on, you can also be exposed to other contaminants, like old paint or chemicals in the wood. Dust masks like these are designed to prevent you from inhaling these particles, and are available in a wide variety of styles and levels of protection.
What to Consider
For the occasional quick sanding project or miter saw cut, a lightweight disposable mask should be sufficient. These are the least effective masks in terms of the size of particles they can protect you from, but they're perfectly fine for quick jobs. Once they've become dirty and clogged, these masks need to be tossed away.
But if you're going to be tackling larger projects that will be creating a substantial amount of dust, like sanding a large table, you'll probably want something that is both effective and comfortable to wear for long periods of time, like a reusable fabric mask or a respirator.
You should also think about what kind of projects you're going to be working on. Remember, woodworking projects can generate more than just sawdust. If you're refinishing a piece of furniture, for example, you could be exposing yourself to chemical strippers, wood stains, or paint fumes as well. Make sure to carefully check the specifications and filtering capabilities of your mask before you purchase, otherwise you could end up lacking the protection you need, which would eliminate the point of a mask altogether.
Whether or not you already have a dust collection system in your workshop can also be a factor in the type of mask you can use. You'll have to use your own judgment here, but if you already have a dedicated dust collection system in your shop, you may be able to get away with using a lighter-duty mask in instances that would otherwise require something more robust, like a respirator, or reusable cloth mask.
How We Selected
While working as a residential and commercial carpenter, dust masks were an essential piece of my PPE, and I've used a wide variety of types, sizes, and styles in my career. I used this experience to assemble this list of options, and did my best to include disposable, reusable, as well as respirator-style masks, which will cover a broad spectrum of protection against dust and other irritants you may encounter while woodworking. I also took the time to include a variety of filter systems in my respirator picks, allowing you to choose one that precisely matches your specific needs.
I've been using this particular mask for years, and have been impressed by its comfortability and ease of use. It's also simple to adjust to your head size, which makes it easy to raise up to the top of your head when you need to take a break, and pull down when you're ready to get back to work. 
It's durable enough to use frequently, and the straps in particular haven't given us any indication that they're losing their structural integrity. The low-profile design of the mask also makes it easy to pair with goggles or a separate face shield.
Filters are easy to attach
Lightweight design
2
Best Valved Disposable Option
3M 8511
NIOSH has approved this disposable mask for 95 percent efficiency against non-oil-based particles, including sawdust, making it well-suited for nearly all woodworking tasks. It also features an exhalation valve that reduces heat buildup inside the mask, which is ideal for extended tasks where you want to stay cool. 
The two-strap design and a bendable nose clip make it easy to create a nice tight fit around your face, a feature that is especially important when working with fine particulates. This mask can be purchased in packs of either five or 10.
Lightweight
Comfortable fit
Straps are not adjustable
3
Best Lightweight Respirator
GVS Elipse P100
A lightweight design — just 4.5 ounces — and flexible fabric construction makes this mask less bulky and cumbersome than other respirators. Plus, thanks to a complete seal around the nose, it won't fog up your eye protection. 
Its soft-sided design also makes it much easier to transport in a backpack or tool bag, and takes up less room than bulkier options. The thick headbands also provide a comfortable, secure fit, and are durable enough to stand up to the wear and tear of frequent use. This mask includes a pair of HESPA P100 filters, so you won't need to buy any separately.
Extremely lightweight
Compact size
4
Best Low-Profile Respirator
Trend Stealth Air APF10
In addition to sawdust from woodworking, the filters that come with this mask also provide protection against the inhalation of oil aerosols, mist, and fumes — making it versatile enough for a range of DIY projects. An exhalation valve on the bottom of the mask also allows you to expel air downwards, instead of up into your face and eyewear. The grill design offers some protection to the filter itself, which should reduce unnecessary clogging, increase efficiency, and help extend its lifespan. 
This model also comes with a storage case that can be purchased separately, which could be really handy if you plan on traveling with it.
Low-profile design increases visibility
Quick-release strap clasp
5
Best Low-Budget Disposable Option
3M 8210
They won't offer the extra protection of some of our other more comprehensive options, but if you're just looking for a basic, disposable mask that can protect you from inhaling wood particles, this N95 paper mask is a great choice.
The formed metal nose strip and interior foam liner make for a nice and comfortable fit around your nose, and reduce fogging in your face mask or glasses. We've used these masks for years, and have always had great experiences with their reliability and structure. At less than $1 a piece, they're also tough to beat in terms of affordability.
Comfortable and durable head straps
Low price
6
Most Comfortable Option
BASE CAMP M Plus
BASE CAMP
amazon.com
$22.96
These soft-sided masks come in a two-pack, and along with the six spare filters that are included, should last a while before you need to order replacements. 
Metal pieces help maintain a good fit and tight seal around your nose, while the body of the mask is loose enough to remain comfortable for long periods of time. The activated carbon filters that come with this kit are appropriate for use in woodworking, as well as other dust-related activities like lawn care and cleaning tasks. Base Camp also provides detailed instructions on fitting, so you can be sure the ones you order will fit comfortably.
One-way valves allow for easier respiration
7
Low-Budget Option
DISEN 50
If you don't plan on being exposed to a significant amount of dust, and are looking for a low-budget option, these Disen masks could be a great fit. At 50 pieces — just 10 cents per mask — you won't find a cheaper option on our list, and with a bendable nose piece and elastic ear loops, are still reasonably comfortable. 
They're not designed to filter out fumes or vapors, but their fabric layers should still provide protection against wood dust particles. Also, these masks don't feature a vent or separate filter, so they might result in fogged goggles or glasses.
8
Best Full-Face Option
KISCHERS P100
KISCHERS
amazon.com
$99.99
This full-face respirator would probably be overkill for most basic woodworking projects, but if you're tackling intense tasks that either create a ton of sawdust, or you just don't want to worry about separate eye protection, it could be a practical choice. 
Its silicone edge creates a total seal around your mouth, nose, and eyes, and the curved plastic lens allows for an impressive amount of peripheral vision, which will increase overall safety while you work. This full face mask will also come in handy at preventing injury from flying debris, which can occasionally occur when using a table saw.
Total facial protection
Wide field of vision
Strong filtration system
Not necessary for small tasks
Expensive
This content is created and maintained by a third party, and imported onto this page to help users provide their email addresses. You may be able to find more information about this and similar content at piano.io
Most Related Links :
editorpen Governmental News Finance News