News
8 Best Spinning Reels for Every Angler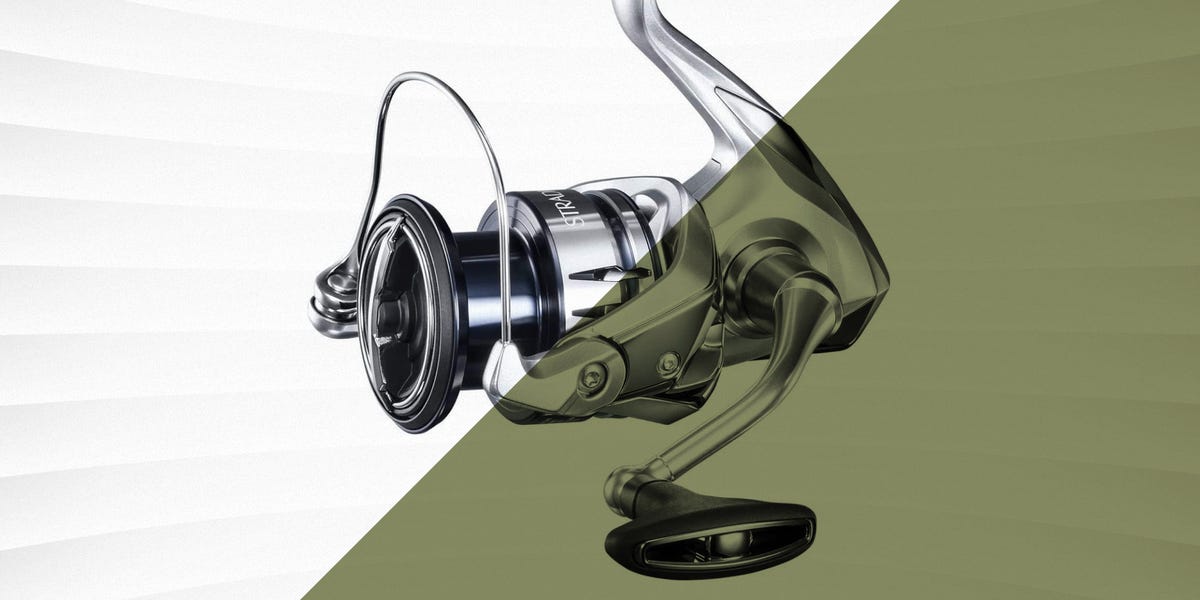 Staff, Courtesy of SHIMANO
While opinions on fishing lures are easy to come by, relatively few people spend as much time thinking about their choice of reel—and that might be a mistake. While of course choosing the right lure for the fish and water you're on is super-important, having the wrong reel (or rod for that matter) can make a difference in your fishing experience.
Spinning reels are the most common type of reel and will make up the majority of the options you see on the racks at Walmart, Bass Pro Shops, or your local outdoors store. And there are plenty of reasons why they're popular. They're fairly easy to use for beginners, they adapt well to a wide variety of fishing applications, and they're generally cheaper than other, more specialized reels such as baitcasters.
Within the spinning reel category, however, there are plenty of options, and I'll break down what to look for and highlight some picks based on the type of fishing and the angler.
What to Consider
Size
The first thing to look at is size. Spinning reels are rated based on the weight of the line they are designed to handle, so if you are primarily fishing 6- to 8-pound test line, simply look at reels that are rated for those weights. You don't need to concern yourself with the actual size dimensions here, just the weight ratings. This rating may not be a range, so if one number such as "6" or "6 lb. test" is indicated, you can safely assume that indicates the ideal line weight but that it can handle a few pounds less or more. The size rating may also appear as "6/140" or "6 lb./140 yards." This spec is listed for each of our picks below.
Gear Ratio
Gear ratio is another common spec listed for spinning reels that can be confusing, especially for beginner fishermen and women. The ratio will appear as "5.2:1," for example, which means nothing without a point of reference. What the ratio means for your fishing experience is that lower ratios reel in slower while higher ratios reel in faster. Most reels fall in the 4:1 to 6:1 range with 6 being the faster reel. If you're not sure if you want a faster or slower reel (different fishing techniques call for different reeling speeds), go for a medium or fast reel of 5:1 and up. The main advantage of slower reels is that they provide more torque for slowly cranking in monster fish, but faster reels are more versatile since you can always reel a fast reel more slowly but you can't make a slow reel crank faster.
Drag System
Spinning reels also have drag systems, and while the differences between the various drag systems don't affect your average angler's experience too much, front drag systems (vs. rear) tend to be more robust and longer-lasting. Some more expensive reels offer sealed/waterproof drag systems, which will also extend the life of your reel. If you're lucky enough to fish somewhere that you regularly haul in extra-large fish, just be sure you buy a reel that's built to handle the extra poundage.
Bearings Count
Bearings count is another common spec, and you'll see some of the cheapest reels around touting 11 or more bearings. While more bearings generally indicate a smoother-operating reel, quality is more important than quantity, so don't assume that more bearings equals better reel. Numbers are usually listed as "6+1," for example, which indicates 6 ball bearings and one roller bearing.
Weight
Weight is another concern, as extra ounces can wear on your hands and arms after long days on the water. This is especially a concern for children, older folks, and beginners worried about fatigue. Lighter reels are generally more expensive, but it may be worth it to let you fish longer.
Materials
Finally, materials come down to two primary options: graphite and aluminum. Both materials are lightweight, but aluminum generally is cheaper and more durable while graphite is slightly lighter. Graphite should be your choice if you're fishing saltwater frequently, since it is more corrosion-resistant than aluminum. Anodized aluminum is more corrosion-resistant and is common in higher-end reels.
How We Selected
My selections here were based on my years of experience fishing across the U.S. as well as several years repairing reels for one of the largest fishing rod and reel companies in the U.S. (where I repaired and replaced a lot more plastic parts than metal ones). I grew up fishing mostly bass in New York's Finger Lakes region, shorecasted and spearfished for saltwater species while living in Hawaii, and now I fish almost exclusively for trout in Colorado's Rocky Mountains.
While there are many great reels available, we focused our selections on the most commonly available brands in North America that anglers will find stocked online and in the more popular big-box stores. Any of these reels will catch fish, but beginners should start simple with one of our budget or beginner picks. If you've been fishing for a while and know what type of fish and technique you prefer, you can select one of the reels that are more purpose-built.
Best Budget Spinning Reel
Ozark Trail 5+1 Ball Bearing Spinning Reel
Ozark Trail
walmart.com
$15.87
• Gear ratio: 5.1:1
• Weight: 1.05 lb.
• Size: N/A
Walmart might not be the first name you associate with high quality, but you shouldn't be surprised to see it as our budget pick. Over the years, I've been surprised at the quality of some of the products from its house outdoors brand, Ozark Trail. This basic spinning reel features a graphite and anodized aluminum frame that's corrosion-resistant and machined aluminum internal parts that will help it last longer than a summer. 
The specs make it a good middle-of-the-road option for beginner and intermediate anglers, and the sub-$20 price makes it palatable to buy one for each member of the family. And if you need a replacement, it's easy to walk into a Walmart anywhere in the U.S. and get the exact same reel for the same low price.
Fraction of the cost of similar name-brand reels
Heavier than more expensive competitor options
Best for Panfish
Shimano Sienna SN500FG Spinning Reel
Shimano
amazon.com
$34.25
• Gear Ratio: 5.6:1
• Weight: 6.3 oz.
• Size: 4 lb./100 yards
I own this Sienna for ultralight fishing, and it's a smooth-running, quality Shimano reel despite its budget price tag. The reel casts farther than its light weight would lead you to believe, and the front drag and Super Stopper II anti-reverse system stops any back play quickly without any play in reverse.
At around $30, it makes it easier to justify owning a separate setup for ultralight fishing specifically. The Sienna also comes in a range of sizes, so if you're fishing for a mix of species, you can go a bit heavier with models up to the 4000 size, which can handle 12-pound test line.
Ultralight for long days casting
Limited to smaller fish; may need another reel for fishing larger species.
Best High-End Reel
Shimano Vanford Spinning Reel
Shimano
basspro.com
$239.99
• Gear ratio: 6.1:1
• Weight: 6.3 oz.
• Size: 8 lb./140 yards
There are some features you can expect with a higher-end reel: smooth casting, light weight, quality internal parts, corrosion-resistance, and trademarked names for just about every feature and part on the reel. The Vanford has all that, but the main reason to spend over $200 on this reel is that it's versatile enough to be your one-reel quiver. As Shimano's product description touts, it can be your reel "from ice fishing to inshore." 
Beyond the reassurance of Shimano's reputation for engineering and quality (especially in high-end reels such as the Vanford), you get a two-year warranty period, though the reel should hold up for much longer.
Ultralight but can handle a wide range of fishing types in saltwater or freshwater
Fast retrieval makes some techniques harder
Best All-Around
Bass Pro Shops Pro Qualifier 2
Bass Pro Shops
basspro.com
$69.99
• Gear ratio: 5.1:1
• Weight: 9 oz.
• Size: 8 lb./145 yards
Bass Pro Shops sells enough fishing reels to have its own house brand line of spinning reels, and the quality is on-par with other name brand reels. They're also likely made in the same factories with the same or similar parts. Because of the sub $100 price tag, this may feel like a run-of-the-mill reel, but it offers all the features and build quality of more expensive reels without the name brand.
The 5.1:1 gear ratio is a good medium retrieval speed, and the 5.5-lb. maximum drag is enough for your average angler's pursuits. Still, the reel is light and precise enough to handle a range of applications from panfishing to bass.
Affordable performance features
Best for Beginners
Daiwa Regal LT Spinning Reel
• Gear ratio: 6.2:1
• Weight: 7.4 oz.
• Size: 8 lb./240 yards
While it makes sense to keep the cost of your first reel low while you evaluate if you are going to stick with fishing as a hobby, you actually don't want to go too cheap. A bad reel equals a bad time on the water, and problems with your line will drive beginners away from the sport since they don't have the skills (yet) to quickly resolve problems. A good balance of price to performance is ideal and for that we recommend the Daiwa LT (light but tough) reel, which offers smooth operation and spooling without breaking the bank.
The light weight and high-speed retrieval make for easier fishing for novices. And if you find that fishing isn't for you, Daiwa reels hold their value and you should be able to sell the reel for a decent price to an angler that knows what he's getting with the brand.
Still need a rod, line, and lures, so startup cost still high compared to cheap all-in-one kits
Retrieval too fast for some techniques
Best for Saltwater
Daiwa BG3000 Saltwater Reel
• Gear ratio: 5.6:1
• Weight: 10.8 oz.
• Size: 10 lb./200 yards
The roughly $100 sticker price might feel steep to folks used to buying cheaper rod'n'reel combos off the shelf, but this is a quality reel meant to last more than a summer or two of light fishing, and it has features usually reserved for higher-end reels such as a sealed drag system and anodized aluminum meant to resist corrosion.
Long-running model/design that's stood the test of time
Chrome bail can corrode and looks out of place with the otherwise black anodized metal
Some plastic parts; to be expected at this price point
Best for Bass Fishing
Shimano Stradic 5000FL XG Spinning Reel
Shimano
amazon.com
$269.00
The aggressive strikes and difficult habitat of freshwater bass make them a somewhat difficult case to buy a reel for. Some anglers prefer the precision and simplicity of a baitcasting reel for bass fishing, but as spinning reel tech has improved, their popularity for bass fishing has grown. For precision casting and fighting a determined bass, the Shimano Stradic FL is a pricey but capable option.
The ultra-smooth casting permits more precision placement working in common bass habitat such as downed trees, vegetation, and other structures. The stiffness of the reel results in greater transfer of cranking power into actual line retrieval when fighting bigger bass.
Extremely smooth-castingCons:
An expensive reel that costs 4x what other decent reels from Shimano and others cost
Best for Kids
Ugly Stik GX2 Youth Rod and Reel Combo
• Gear ratio: 5.2:1
• Weight: 13.76 oz. 
• Size: 6 lb./145 yards
Like most youth fishing reels, this offering from Ugly Stik comes as a rod & reel combo with a 5-foot-6-inch rod. Unlike most youth setups, however, this combo comes with an open-faced spinning reel, which lets young anglers learn how to use the bail system early rather than trigger-operated spincast setups that can teach bad habits for life.
And while it's smaller to fit smaller, weaker hands and arms, it has all the same features as the adult GX2 models. It's a medium-speed and medium-weight reel that should serve a young angler until they're big enough to graduate to adult-sized reels.
Includes an appropriate rod so no additional cost outside line and lures
Some learning curve compared to the popular trigger models
This content is created and maintained by a third party, and imported onto this page to help users provide their email addresses. You may be able to find more information about this and similar content at piano.io
Most Related Links :
editorpen Governmental News Finance News