News
8 Best Android Tablets for Browsing and Binging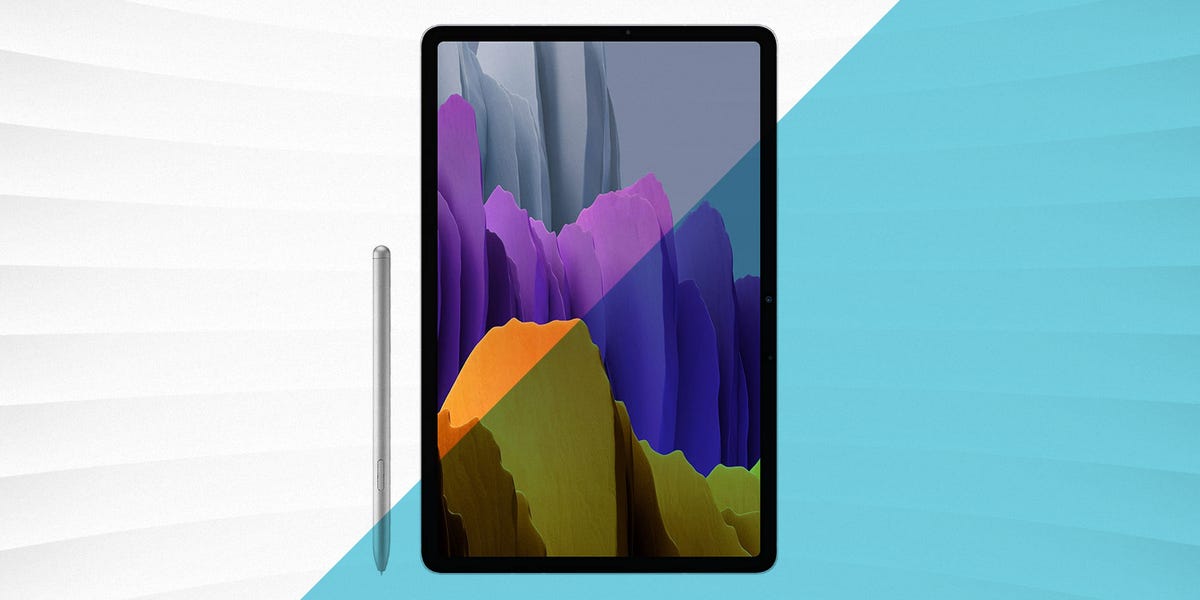 Staff, Courtesy of Samsung
Android tablets are easy and convenient ways to browse the web, watch movies, and even do some light work. Android tablets go head to head with their main rival, Apple's iPad, but they can be significantly cheaper if all you're looking to do is light computing.
Specs to Consider
Most Android tablets look pretty much the same on the outside: rectangular slabs of metal or plastic, but it's on the inside that counts. The most dramatic differences are in screen quality. The best Android tablets offer resolutions of 1080p or higher and newer technologies like OLED (organic light-emitting display) that can offer a wider range of colors.
Cheaper models that offer a resolution of around 1280 x 800 can be acceptable for reading eBooks or general web use but may leave you wanting more for watching movies or playing games.
Smaller screens offer better portability but can be less than ideal for watching movies or videos. A 10-inch screen size is the minimum if you plan to binge on Netflix.
While there are various processors on offer for these tablets, almost any model currently for sale should function well, as Android is less demanding than other operating systems.
The amount of built-in memory can make a difference when you start to store movies and apps. The lower-end tablets offer 8 or 16 gigabytes of memory, but for most people, 32 gigabytes should be plenty.
One advantage that many Android tablets offer over iPads is the ability to easily add more memory with an SD card slot. With an iPad, you are stuck with the memory you buy.
How We Picked
As a technology writer, I've owned more tablets than I can count. Even though my daily driver is Apple's new iPad M1 Pro 12.9-inch tablet, I often find myself using an Android tablet, especially when traveling and don't want to risk damaging the pricey iPad.
We chose a range of tablets that will work well mainly for uses like web browsing and entertainment. If you are looking to do serious work, you should consider either a convertible like the Microsoft Surface Pro 7 or a full-fledged laptop.
---
Advertisement – Continue Reading Below
Best for Amazon Power Users
Amazon Fire HD 10 Tablet
Amazon
amazon.com
$149.99
Display: 10.1-in., 1080p Full HD
Memory: 32 GB
I own the Fire HD 10, and it's a fantastic all-around machine for consuming entertainment, shopping online, and of course tapping into Amazon's ecosystem of music, movies, and more. Its biggest drawback is that it uses a special version of Android that doesn't have access to the Google Play store. However, Amazon has its own app store, which should have most apps that you could want. The screen and sound quality aren't ideal for gaming or movies, but are surprisingly good for the price.
Access to everything Amazon—music, movies, apps, and more
Does not have access to Google Play
Best for Work and Play
Samsung Galaxy Tab S7+ Tablet
Samsung
amazon.com
$849.99
$749.00 (12% off)
Display: 12.4-in., 2800 x 1752
Memory: 128 GB
I recently spent some time testing out the Tab S7+ and can recommend it for those who want a top-of-the-line tablet to do work as well as provide entertainment. The highlight is the included S-pen, which lets you easily take notes. The high-resolution screen is sharp and features a 120Hz refresh rate for smooth scrolling and better picture quality while watching movies. Buy the optional keyboard to make this a reasonable work machine in a pinch.
S-pen included
Smooth scrolling
Best Budget Pick
Lenovo Tab M10 Plus Tablet
Lenovo
walmart.com
$159.99
Display: 10.3-in., 1920 x 1200
Memory: 64GB
If you don't want to lock yourself into Amazon's own OS with its Kindle tablets, the M10 Plus is a good affordable alternative. It's got similar specs to the Fire HD 10 (above), but for just a few more dollars you get access to the Google Play store with its wider variety of apps. You also get a full HD screen that's better for movies and gaming, and twice the memory. The M10 Plus has a metal back, which gives it a premium feel for this price range. The 8 MP rear + 5 MP front cameras take reasonably good pictures, although the resolution is limited if you actually want to print your shots.
Access to Google Play store
Has twice the memory of Amazon's Fire HD
Limited resolution if you want prints of your pics
Best Affordable Amazon Option
Amazon Fire HD 8 Tablet
Display: 8-in., 1280 x 800
Memory: 32GB
The Fire HD 8 is the little brother to the HD10, with a smaller screen but similar specs otherwise. The price saving is welcome, but you also get a tablet that's easier to hold, essential for long reading sessions if you use it as an e-reader. As with the Fire HD 10, the screen quality won't win any prizes, but it's fine if you don't expect cinephile-quality movies. The HD 8's plastic casing feels a bit cheap but it's easy to grip.
Small size is easy to hold
Plastic case feels a bit cheap
Best Ergonomics
Lenovo Yoga Smart Tab
Lenovo
amazon.com
$229.00
$200.00 (13% off)
Display: 10.1-in., 1920 x 1200
Memory: 64GB
The Smart Tab has a unique shape with a bulge at one side that makes it handy for gripping and also provides space for a handy flip-out stand. The bulge also holds dual JBL Hi-Fi speakers boosted with an amplifier and Dolby Atmos. The 10.1-inch FHD display has enough resolution for highly detailed movie watching and gets bright enough at 320 nits to pick out details even during daylight.
Best for Travel
Samsung Galaxy Tab A Tablet
Samsung
amazon.com
$199.99
$159.99 (20% off)
Display: 8.0-in., 1280 x 800
Memory: 64 GB
The Tab A 8.0 offers solid specs at a reasonable price. The minimal bezel makes the most of the relatively small eight-inch screen. The HD resolution won't be enough for serious screen hounds, but the Tab A packs in enough pixels to do most activities like browsing the web or playing some casual games. Like most compact tablets, the Tab A is small and light enough (12.1 ounces) to toss into a bag or even a large pocket without weighing you down.
Small size can be convenient in some situations
Low resolution for anything but browsing and playing games
Best for Entertainment
Samsung Galaxy Tab A7
Samsung
amazon.com
$229.99
$197.94 (14% off)
Display: 10.4-in., 2000 x 1200
Memory: 32GB
The slim, stylish design of the Tab A7 makes it stand out from tablets with similar specs. It's an excellent entertainment system with a quad speaker system that plays in Dolby Atmos surround sound. Movies and games will look good, too, with a sharp screen that boasts a resolution of 2000 x 1200 that's enough to pick out small details in your favorite show. Samsung throws in six months of a Spotify premium membership with the purchase.
Quad speaker system with surround sound
Comes with six months of Spotify
Best for Doodlers
Samsung Galaxy Tab S6 Lite
Samsung
amazon.com
$349.99
$269.99 (23% off)
Display: 10.4-in., 2000 x 1200
Memory: 64GB
Scribblers take note. The S6 Lite is great for handwriting with the included S-pen that allows you to write on the screen. This is one of the last expensive tablets you can buy with an included stylus and also boasts the same sharp display as on the slightly less expensive Tab A7 (above). It's got an attractive, metal design that's only .28 inches thick. Samsung claims you'll get up to 12 hours of battery life with this tablet.
S-pen included
Thin, metal design
This content is created and maintained by a third party, and imported onto this page to help users provide their email addresses. You may be able to find more information about this and similar content at piano.io
Advertisement – Continue Reading Below
Most Related Links :
editorpen Governmental News Finance News