ECONOMY
Texas Deep Freeze Leads to Canceled LNG Cargoes: Energy Update
(Bloomberg) — The sprawling blackouts that plunged Texas into chaos in the midst of an historic cold blast are easing and energy prices are stabilizing but the impact it's had on vital infrastructure is just being realized.
Four of the largest refineries in Texas are discovering widespread damage from the deep freeze that crippled the state and expect to be down for weeks of repairs, raising the potential for prolonged fuel shortages that could spread across the country.
About 200,000 homes and businesses in the state were still without electricity early Friday morning, according to Poweroutage.us, which aggregates data from utility websites. Texas Governor Greg Abbott said in a tweet that any remaining residential outage is due to downed power lines or the need for reconnection.
The economic fallout from the crisis is broad and potentially lasting. U.S. oil production plunged by a record 40%. While some wells are being restarted in Texas, several companies in the oil industry have claimed force majeure, a warning to customers that they won't be able to meet deliveries under contract.
Repercussions are being felt in the global crude market. Sempra Energy's Cameron liquefied natural gas export facility in Louisiana has declared force majeure on loadings, showing how the storm that battered Texas is hampering the global supply of the super-chilled fuel, consumed by nations from Japan to the U.K. As many as 10 U.S. LNG cargoes were canceled, according to a survey of traders, brokers and executives.
"None of the massive infrastructure was designed to handle freezing conditions," Paul Sankey, an oil analyst at Sankey Research, wrote in a note. "This is an energy crisis that very few in the market, certainly outside Texas and Oklahoma, realize."
Texas Governor Greg Abbott, who has taken the extraordinary step of restricting the flow of natural gas across state lines, Thursday afternoon demanded that lawmakers make winterization of power plants mandatory. Abbott harshly criticized the state's grid manager for what he said was a failure to provide a realistic assessment of Texas's generating capacity prior to the unprecedented cold snap.
U.S. Freeze Seen Leading to Loss of as Many as 10 LNG Cargoes (7:54 a.m.)
The big freeze that roiled energy markets is expected to result in a loss of between three and 10 liquefied natural gas cargoes, according to a survey of 14 LNG traders, brokers and executives.
Loadings were mostly affected at the Freeport and Corpus Christi production facilities in Texas, as well as at Cameron LNG in Louisiana. The lower end of the range highlights expectations that many shipments were deferred rather than outright canceled.
Oil Prices Fall for Second Day as Production Restarts (6:50 a.m.)
Oil fell for a second day as production slowly restarted in Texas. Futures in New York dropped toward $59 a barrel, falling the most in three months at one point on Friday.
Companies are resuming output that was halted by the frigid weather but the timeline for a full restoration of the estimated 40% or so of U.S. oil production that was shut in by the big freeze is unclear.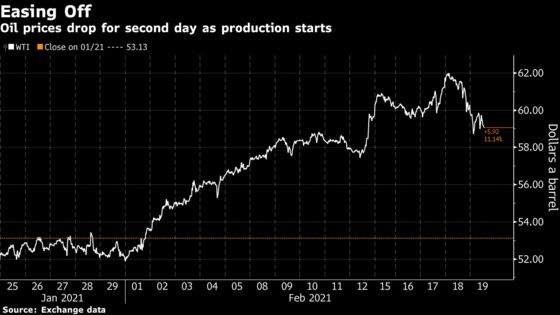 Goldman Sees Big Freeze Having Small and Transitory Impact on Oil (3 a.m.)
Oil output curtailed by frigid temperatures in Texas is being mostly offset by demand loss, leading to only a small and transitory impact to prices, Goldman Sachs analysts said in a Thursday research note.
Oil wells shut in during the freeze will likely restart quickly when weather warms up this weekend, resulting in a net loss of about 700,000 barrels a day for the month of February, analysts including Callum Bruce said. While there was some demand increase for home heating and diesel power generators, the loss of road transport consumption and petrochemical feedstocks mostly balances out the production hit.
Refineries typically recover slower than production, especially as they're more used to coming back from hurricanes than cold weather, meaning that profit margins for making fuel from crude could be strong in the weeks ahead, Bruce said.
Texas Power Seller Sounds Off as Prices Stay Sky High After Supply Returns (12 a.m.)
Griddy, the Texas power retailer that fully exposes its customers to real-time swings in wholesale power markets, said it plans to fight regulators who kept prices high Thursday night even as supply returned to normal.
On Monday, the state's Public Utility Commission ordered its main grid to keep prices near the cap of $9,000 per megawatt-hour to incentivize as much generation as possible to come onto the grid amid shortages that caused millions to lose power in rolling blackouts.
As of Thursday night, those prices remained at the cap even though enough generation had come back online to return power to nearly everyone in the state. There were about 9 gigawatts of excess capacity as of 11 p.m. local time, according to grid data.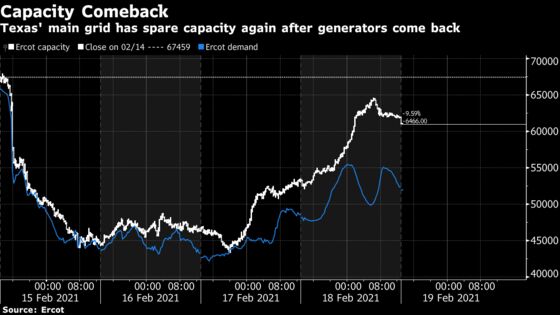 According to Griddy, a typical home would pay $640 a day for power at current prices, compared with $2 in normal times. The company earlier this week told all of its 29,000 customers to try to find other providers amid escalating wholesale costs.
Biden Tells Texas Governor Federal Aid is Ready (11 p.m.)
President Joe Biden told Abbott that the federal government will continue to work hand-in-hand with state and local authorities in Texas to bring relief to families affected by severe winter weather and power outages, according to a press release from the White House.
Biden also said he planned to instruct additional federal agencies to look into other steps that could be taken to support the state. The federal government is ready with additional assistance for Texas or any other states that need it as severe storms continue, he said.
Texas Grid Says 36 GW of Generators Remain Offline (9 p.m.)
About 36 gigawatts of generation, 21.4 of which is fossil fuel-based, remained offline Thursday night, the Electric Reliability Council of Texas said in a press release.
The state's main grid operator said enough capacity has returned that it hasn't needed to force rolling blackouts. Some limited outages may be possible Thursday night or Friday morning to keep the grid stable as demand comes back, it said.
Most customers who were without power Thursday evening fell into one of three categories, it said:
Areas where local power lines were down because of the storm
Areas taken offline for rolling blackouts that need to be manually restored
Large industrial facilities that voluntarily went offline to reduce system demand.
Mexico Wants to Stop Texas Gas-Hoarding Plan (7:50 p.m.)
Mexico has asked the U.S. ambassador to help make sure the nation isn't impacted by a Texas decision to force local gas producers to offer their fuel to in-state buyers before exporting it.
"We are doing our diplomatic work so that this doesn't happen," President Andrés Manuel López Obrador of Mexico said at a news conference on Thursday. "This wouldn't just affect Mexico — it would also affect other states in the Union."
Texas is the biggest gas producer in the U.S., and Governor Greg Abbott on Wednesday signed an order restricting gas sales through Feb. 21 amid the state's widespread power outages.
U.S. pipeline gas exports to Mexico plunged by about 2 billion cubic feet a day earlier this week after a pipeline outage, contributing to power outages south of the border.
Restarting Texas' Damaged Oil Refineries Is Going to Take Weeks (6:50 p.m.)
Four of the largest refineries in Texas are discovering widespread damage from the deep freeze that crippled the state and expect to be down for weeks of repairs, raising the potential for prolonged fuel shortages that could spread across the country.
Exxon Mobil Corp.'s Baytown and Beaumont plants, Marathon Petroleum Corp.'s Galveston Bay refinery and Total SE's Port Arthur facility all face at least several weeks to resume normal operations, people familiar with the situation said. Gasoline prices at the pump could reach $3 a gallon in May as long outages crimp supply ahead of the driving season, said Patrick DeHaan, head of petroleum analysis for retailer tracker GasBuddy.
The cold snap and power outages roiling energy markets affected more than 20 oil refineries in Texas, Louisiana and Oklahoma. Crude-processing capacity fell by about 5.5 million barrels a day, according to Amrita Sen, chief oil analyst for consultant Energy Aspects Ltd.
Most Related Links :
editorpen Governmental News Finance News