ECONOMY
How Germany's Greens Moved From Fringe to Contenders
(Bloomberg) — Germany's Green Party has come a long way from its origins as an environmental fringe group back in the 1980s. The Greens participated in national governments led by Chancellor Gerhard Schroeder's Social Democrats between 1998 and 2005, and for the past decade have run the southwestern state of Baden-Wuerttemberg, an industrial powerhouse home to carmaker Daimler AG and software developer SAP SE. They've been instrumental in Germany's renewable-energy push and are entering this September's national election as potential kingmakers.
1. Could the Greens run Germany?
They have a good shot later this year — especially as Chancellor Angela Merkel, who has governed the country for more than 15 years, isn't running in the election. The Greens are the country's most popular party according to recent polls, and they're offering a generational change in leadership. Their candidate for chancellor, Annalena Baerbock, is 40 and has jointly run the party with Robert Habeck since 2018. Under their guidance, the Greens have succeeded in appealing to a broad swath of voters who are backing policies ranging from greater climate protection to agricultural reform.
2. How was Baerbock nominated and what does she stand for?
The Greens announced Baerbock's candidacy on April 19 after a smooth and amicable process — a stark contrast to the messy fight over the nomination of rival conservative-bloc candidate Armin Laschet. Baerbock is a political scientist and foreign-policy expert, who won a seat in the Bundestag in 2013 representing Brandenburg, a constituency like Merkel's in the former communist East. Brought up near Hanover, she's from the party's pragmatic wing and studied international law at the London School of Economics and politics in Hamburg. She was briefly a journalist and gained political experience working for a European Parliament member.
3. Is she popular with voters?
A Forsa poll published April 28 showed she would win comfortably if Germans could elect their chancellor directly. Almost two thirds, or 32%, said they would choose Baerbock, compared with 15% for Laschet and 13% for Social Democrat candidate Olaf Scholz. And a survey of company executives in April showed Baerbock with the most support among the prospective candidates for chancellor.
4. What are the Greens' policies?
The cornerstone of the Greens' campaign is a 10-year, 500 billion-euro ($606 billion) program to invest in initiatives including high-speed Internet, quantum computers, biotechnology and climate-neutral infrastructure. Other goals include:
Accelerating the shift to renewable power under a plan that includes installing solar panels on every new roof and using 2% of German land for wind power
Loosening constitutional restrictions on state borrowing and treating investments as public assets
Regulating capital-market speculation to rein in the finance industry
Raising taxes for the wealthy as well as increasing levies on capital gains
Urging the European Central Bank to pursue high employment and social welfare alongside controlling inflation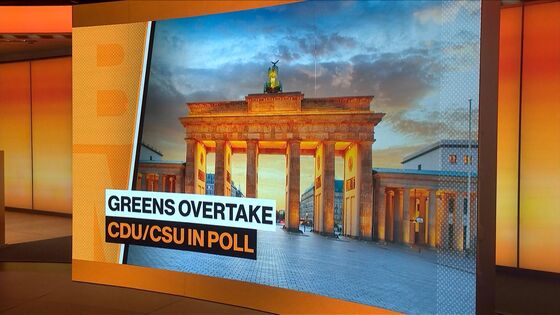 5. Where do they stand on defense and NATO?
The Greens are pro-European and in favor of handing more security responsibilities to the European Union. The party supports NATO but is against increased defense spending and seeks to get the U.S. on board for a bid to rid the world of nuclear weapons. The Greens oppose selling arms to authoritarian regimes and into war zones.
6. How would they handle Russia and China?
Unlike Merkel's bloc, which has tried to chart a diplomatic course with Moscow and Beijing, the Greens are likely to push back harder against human-rights violations abroad. The party opposes the Nord Stream 2 gas pipeline from Russia, which is close to completion but has been targeted by U.S. sanctions, and is pushing for a tougher approach toward Russian President Vladimir Putin. A Green member of the European Parliament, Reinhard Buetikofer, is a vocal opponent of an EU-China investment agreement reached at the end of 2020 and was sanctioned by Beijing in March for his stance.
7. What makes Germany's Greens unique?
Unlike their counterparts in the U.S., they have succeeded in going mainstream, forming coalitions with conservative groups and adjusting their programs to cater to business interests. They're part of several regional governments in Europe's biggest economy and have a good chance of participating in the next government at the national level. While their peers abroad are seen mostly as environmental fringe groups, Germany's Greens have gained credit for running Baden-Wuerttemberg, a state that used to be a CDU stronghold.
8. How do they compare with Green parties elsewhere?
Over the border in France, the Greens haven't picked a candidate yet for next year's presidential election. The field there includes Yannick Jadot, a member of European Parliament, the mayor of Grenoble, Eric Piolle and economist Sandrine Rousseau. Their problem is that all parties in France are talking about the climate and ecology now, even Marine Le Pen's nationalists. The Greens contend they're the originals while others are pale copies, but they're being upstaged and the debate is moving on to other issues, such as religion and the economy. Still, they have the potential to rally a large part of the left. In the U.K. the Green Party won just 2.7% of the vote in the 2019 general election and held onto a single seat in the House of Commons. In the U.S. the Green Party remains marginal and has been seen by Republicans as an unwitting ally in swing states, potentially siphoning votes from Democrats, according to the New York Times.
9. What's been their track record?
The Greens' early attempts at regional governing — in the mid-1980s in Hesse and the late 1990s in Hamburg — weren't overly successful, partly because of conflicts within the party. But as junior partner in two SPD-led national governments, they put their stamp on German politics, helping to push through a landmark deal to shutter Germany's nuclear plants and opposing the war in Iraq. During the buildup to the U.S.-led invasion, the Greens' Foreign Minister Joschka Fischer delivered a slap-down to Secretary of Defense Donald Rumsfeld, who had just made a speech in Munich making the case for war. "Excuse me, I am not convinced," Fischer said. Their win in March in Baden-Wuerttemberg — where the Green candidate was elected to a third consecutive term as state premier — and a strong showing the same month in Rhineland-Palatinate, where it is a junior partner in an SPD-led coalition, have given the party momentum.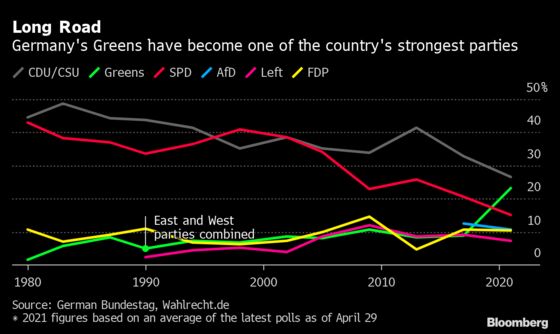 10. What might a government with the Greens look like?
The Greens are challenging the conservative bloc comprised of the CDU and its smaller Bavarian sister party, the Christian Social Union, for the leading role in a future government. They are likely to either form a coalition government with the CDU/CSU or lead a three-way tie-up with the SPD and either the Left party or the liberal Free Democrats. The SPD, for years the CDU's main rival, has been hurt by coalitions with Merkel but could still support the Greens in a two-way coalition if it does better than expected. Support for the Greens was at 28% late April in a poll by Kantar for Bild am Sonntag, while the CDU/CSU bloc was on 27% and the SPD on 13%.
Bloomberg articles on the March regional votes, the Greens announcing Baerbock as their candidate for chancellor and the rise of the party to mainstream political power.
A Bloomberg profile of the German Greens.
A New York Times story on the U.S. Green Party and Republicans.
A BloombergTV interview with Green Party lawmaker Danyal Bayaz.
The Green Party's manifesto of principles.
Opinion polls on German voting intentions.
Most Related Links :
editorpen Governmental News Finance News