ECONOMY
Delta Strain Dominant in U.S.; France's New Wave: Virus Update
(Bloomberg) — The delta variant first seen in India is set to become the dominant Covid strain in the U.S., boosting concerns it could lead to a surge in cases in under-vaccinated hot spots. In France, Delta's growth could spur a "quick fourth wave," a government spokesman warned.
Moderna Inc., meanwhile, has begun human trials of an messenger RNA-based influenza vaccine, potentially paving the way for a combination shot for adults that could stave off flu, Covid variants and a third common respiratory virus.
In Germany, the health minister stepped up his plea for as many people as possible to be vaccinated amid signs the country's inoculation drive is losing steam. He floated the idea of a "vaccination weekend" to reach more people. And in Japan, the country plans to declare a fresh state of emergency for Tokyo that would cover the entirety of the Olympics, NHK reported.
Moderna Starts MRNA Flu Vaccine Trials (10 a.m. NY)
Moderna Inc. has begun human trials of an messenger RNA-based seasonal flu vaccine, in a move that could pave the way for a combination shot for adults that could stave off flu, Covid variants and a third common respiratory virus.
In a statement, the company said it had begun a combined phase 1 and 2 trial of an mRNA-based vaccine against four influenza strains in roughly 180 adults ages 18 and up. The study will evaluate safety and the immune response, according to the statement.
The hope is that the speed and adaptability of mRNA technology will improve efficacy of existing flu vaccines based on older technologies. Existing seasonal flu shots are typically 40% to 60% effective.
"Our vision is to develop an mRNA combination vaccine so that people can get one shot each fall for high efficacy protection against the most problematic respiratory viruses," said Stephane Bancel, Moderna's chief executive officer, in the statement.
Pfizer Inc. and its partner BioNTech SE are also working on mRNA vaccines for seasonal influenza, though they haven't yet launched clinical studies.
Delta Makes Up Half of New U.S. Cases (9:34 a.m. NY)
The delta variant first seen in India is set to become the predominant Covid strain in the U.S., boosting concerns it could lead to a surge in cases in under-vaccinated hot spots.
The highly transmissible variant made up 30% of positive samples sequenced in the U.S. for the two-week period ending June 19. The variant is predicted to increase to 52% in the two weeks ending July 3, according to Jade Fulce, a spokesperson at the U.S. Centers for Disease Control and Prevention.
In June, the agency classified the B.1.617.2 strain as a variant of concern. The proportions of the variant across the U.S. vary, ranging from 30% in the Pacific Northwest to greater than 80% in the Midwestern region of the country.
Lions Rugby Tour Jeopardized (8:44 a.m. NY)
The British & Irish Lions rugby team's tour of South Africa is under threat from a raft of infections that's led to the cancellation of two supporting games.
The Springboks, South Africa's national rugby team and the reigning world champions, have canceled a match against Georgia scheduled for July 9, the national association SA Rugby said on Wednesday. Twelve members of the squad and its management tested positive for the coronavirus as did four members of the Georgia squad.
France Sees Risk of Fourth Wave (7:38 a.m. NY)
The progression of the delta variant in France could translate into a "quick fourth wave," government spokesman Gabriel Attal told reporters Wednesday.
"Wherever the variant is present it could spoil the summer," Attal said. The more transmissible variant first found in India now accounts for about 40% of new cases in France.
State of Emergency for Tokyo Olympics (6:49 a.m. NY)
Japan is planning to declare a new state of emergency in Tokyo throughout the Olympics as virus cases increase, NHK reported, raising the possibility that most of the events will be held without spectators.
A state of emergency is unlikely to trigger the cancellation of the Olympics, set to start on July 23, with officials from the organizing committee having said previously they're prepared to hold events without spectators if the Japanese government puts emergency measures in place during the Games.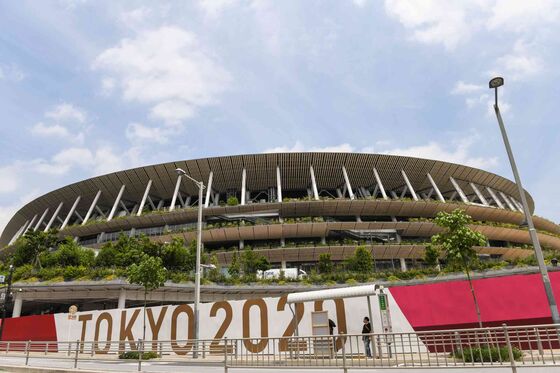 Vietnam Tightens Rules in Ho Chi Minh City (6:28 a.m. NY)
Vietnamese Prime Minister Pham Minh Chinh ordered officials in Ho Chi Minh City to impose the "strictest" limits on movement to stop Covid's spread, according to a post on the government's website.
With an outbreak that began in late April spreading to a number of provinces around Vietnam's main commercial center, Ho Chi Minh City's municipal government must make sure that no big gatherings take place and people obey social-distancing rules, the post said.
Officials were ordered to check anti-virus measures at industrial parks in the city and suspend operations of those don't meet the government's safety requirements, according to the post.
Indonesia Deaths Pass 1,000 in Record (5:25 p.m. HK)
Deaths in Indonesia exceeded 1,000 for the first time, intensifying the battle to contain a resurgence of infections that has overwhelmed its medical system. The nation reported 1,040 deaths in the past 24 hours, double the number a week ago, ministry data show. It registered 34,379 new cases Wednesday, also a record.
Southeast Asia's biggest economy is preparing a response should daily cases hit 70,000, which would be a worst-case scenario, according to Luhut Binsar Panjaitan, who is overseeing the pandemic response in the most-populated islands of Java and Bali. The government said this week it plans to start importing oxygen to secure supply.
Delta Jolts French Vaccine Campaign (5:01 p.m. HK)
Concern that the delta variant may cause a fourth wave of infections has jolted people in France back into seeking vaccinations, after the pace of shots had slowed.
"We're back to a better dynamic right now in terms of appointments taken," Jean-Baptiste Lemoyne, France's junior minister for tourism, told France Info radio on Wednesday. The country is putting in place vaccination sites at travel destinations to make sure people keep getting shots over the summer, he said.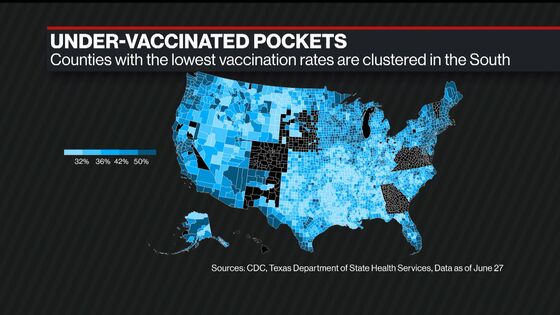 Germany Aims to Spur Vaccine Drive (4:19 p.m. HK)
Germany's health minister Jens Spahn stepped up his plea for as many people as possible to get a Covid-19 shot amid signs the country's vaccination drive is losing steam.
Spahn said as well as inoculating people in dedicated centers, doctors' offices and at work, Germany must push ahead with an effort to make vaccines more easily available in places like public markets and sports clubs.
"Maybe we could have a 'vaccination weekend' for Germany to really reach everybody, and then we will achieve a high rate," Spahn said on DLF radio. Since May, Germany had been administering more than a million shots on several days each week, but last week only managed that on Wednesday.
Half of Irish Adults Fully Vaccinated (3:43 p.m. HK)
More than half the adult population in Ireland is now fully vaccinated, and 69% of adults have received at least one dose, according to Paul Reid, the head of the nation's Health Service Executive.
People in Ireland in the 30 to 34 age group can register for an mRNA vaccine from tomorrow. Additionally, 18- to 34-year-olds have been able to register this week with pharmacies to opt in to the single-dose Janssen vaccine, and local media reports say pharmacies are being overwhelmed with demand.
Delta Spreads in S. Africa's Western Cape (3:19 p.m. HK)
Wastewater surveillance has shown that the delta variant, a highly transmissible coronavirus mutation first identified in India, has become dominant in some towns in South Africa's Western Cape province. The findings, announced in a South African Medical Research Council statement, highlight the spread of the variant that's driven a rapid rise in cases in Gauteng, South Africa's most-populous province.
Singapore Inches to Reopening (2:56 p.m. HK)
Singapore plans to further relax restrictions, with larger gatherings allowed from next week, while it works toward a bigger reopening once at least half of the population is fully vaccinated.
From July 12, dine-in at food outlets will be increased to up to five people, from two people currently, the Ministry of Health said in a statement on Wednesday. Wedding receptions as well as limited social gatherings at workplaces may also resume.
Furthermore, once at least 50% of Singapore residents are fully vaccinated, expected around the end of the month, the government is looking to relax dining, events and group sizes — only for vaccinated people.
Tokyo Wants Tighter Alcohol Restrictions (2:27 p.m. HK)
The Tokyo Metropolitan Government has asked the central government to impose stricter alcohol restrictions, including asking eateries to stop serving it, if it decides to extend quasi-emergency measures beyond July 11, Nikkei reports, without attribution.
The request comes as the capital is facing a refreshed Covid surge. Meanwhile, the government is looking to simplify regulations to allow for the speedy review and approval of vaccines for emergency use, Yomiuri reported.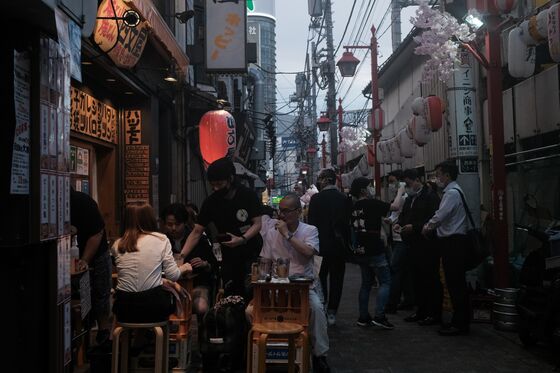 Thailand to Turn Air Terminal Into Hospital (1:01 p.m. HK)
Thailand plans to convert a terminal at the nation's main international airport into a field hospital as a surge in coronavirus infections that's straining the nation's public health system shows little sign of easing.
Meanwhile, the country's Covid-19 taskforce will consider lockdown proposals from health officials. The more stringent measures may be applied to the worst affected areas, including Bangkok and surrounding provinces.
Low-Dose mRNA Shot Spurs Immune Memory (12:33 p.m. HK)
A small clinical trial studying the immune response to a quarter-dose of Moderna Inc.'s Covid vaccine found a two-shot regimen generated so-called memory T cells that were comparable in quantity and quality to those produced after a natural Covid-19 infection.
The finding, released in a study Tuesday ahead of peer-review and publication, points to a potential dose-sparing approach to mRNA vaccines, researchers at the La Jolla Center for Immunology in La Jolla, California, said. Still, more research is needed to determine whether vaccination with a low-dose mRNA shot provides the same level of protection as the standard inoculation, said Daniela Weiskopf, an assistant professor of immunology, in an interview.
Fresh Call to Ban Tokyo Olympic Fans (11:12 a.m. HK)
Shigeru Omi, the head of the Japanese government's coronavirus advisory panel, said it was desirable to hold the Olympic games without spectators, making a fresh call to ban fans, Kyodo reports.
He also said it was important the attendance of Olympic officials, such as IOC members, should be downsized to the minimum possible.
Philippines Eyes 30 Million Doses (10:35 a.m. HK)
The Philippines expects to receive as many as 30 million vaccine doses this month and next, according to its vaccine czar, who apologized for supply delays that halted inoculation in some cities.
About 16 million doses will arrive in July, including vaccines donated by Japan and the U.S., those committed under Covax as well as shots procured by companies, Carlito Galvez said in a recorded briefing aired Tuesday night. Around 14 million doses are expected in August, he said.
Several cities in the Philippine capital region have halted their first-dose vaccination programs as supplies from the national government runs out.
Sydney Lockdown Extended (9:33 a.m. HK)
A two-week lockdown of Sydney will be extended for at least another seven days as authorities race to stamp out an outbreak of the delta variant that's grown to more than 350 cases since mid-June and spread to an aged-care facility.
Current stay-at-home orders — except for exercise, essential shopping and medical care — will remain in place in Greater Sydney until midnight on July 16, New South Wales state Premier Gladys Berejiklian told reporters Wednesday. The lockdown was originally scheduled to end on Friday.
Sydney recorded 27 new cases in the community from the day before, with 13 of those in isolation during their infectious period.
Most Related Links :
editorpen Governmental News Finance News